Episode 58 – The Beatitudes: Transcending Victimhood
We conclude our series on the Beatitudes with the last statement, "Blessed are those who are persecuted for righteousness for theirs is the Kingdom of Heaven." Religious persecution is definitely still rampant in our world, and while most of us don't experience persecution to that degree, we often experience ill-treatment, marginalization or judgment because of our beliefs or convictions. Here we learn that when we hold steadfast to who we are – when we are truly aligned with righteousness/right thinking – the world may try to persecute us…but the world doesn't hold that power. Only the Kingdom — the full awareness of Spirit — holds true power.
NOTES:
The eighth Beatitude: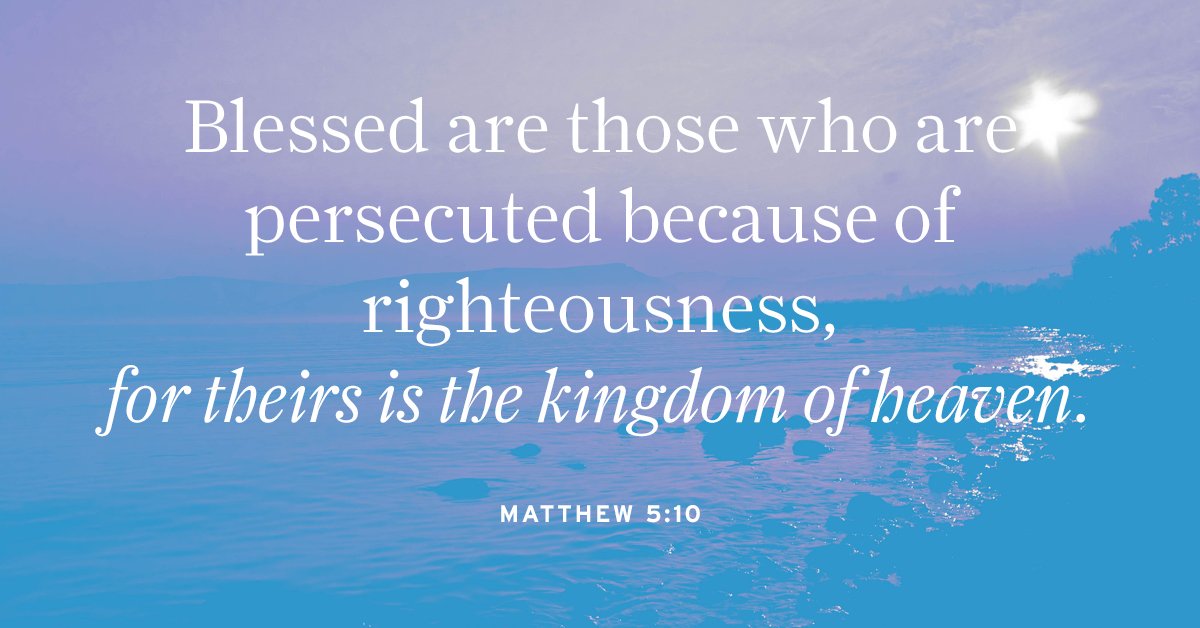 Persecution is hostility and ill-treatment, especially because of race or political or religious beliefs
The Will of God for us is Harmony, Peace and Joy…not suffering! This statement is not a promise of an afterlife for those who suffer religious persecution. It isn't a call to martyrdom!
Interpretation #1:
We are not victims of anything outside of us
All persecution happens within our own mind – when Truth hits up against ego – and we succumb to fear, limitation, anger, revenge, etc.
When right thinking turns us to our Divine Nature, we enter Kingdom of Heaven consciousness. We are blessed.
Interpretation #2
When we are walking the God-inspired path – that path doesn't always jive well with the rest of the world. People don't always like what we say, do or think (particularly if we are called to manifest an evolution in consciousness or if our message defies the accepted message of culture). The world may try to persecute us…but the world doesn't hold that power. Only the Kingdom — the full awareness of Spirit — holds true power. There is only Love in the Kingdom.
The Promise: The Kingdom of Heaven
When we are truly aligned with righteousness/right thinking, we are blessed to be in the Kingdom and are therefore not truly 'persecute-able.' Ideas of Peace, Love, and Good prevail in the heart and mind. Thought, word and deed are harmonious
The Message of Easter:
There is nothing to fear
The power of resurrection is always at work, raising Life to higher levels
Life is eternal!
The Power of Love transcends everything!
AN IDEA: THE BEATITUDES REVEAL AN ARC – AN EVOLUTION FOR SPIRITUAL LIVING
1. Blessed are the poor in Spirit – We turn to God.
2. Blessed are those who mourn – We experience loss of the old self.
3. Blessed are the meek – We grow in Spirit so that our strength/power is under control and we know what we are and what we are not.
4. Blessed are those who hunger and thirst for righteousness – We grow in our unfettered consuming passion for right thinking, right living, right being.
5. Blessed are the merciful – We turn our attention to others and use our power for Good, not harm.
6. Blessed are the pure in heart – As vessels of Compassion and with a clear heart/mind, we see God/Good in everything.
7. Blessed are the peacemakers – We are at peace with ourselves and wherever we are, we make Peace. People see God is us.
8. Blessed are the persecuted for righteousness sake – We transcend victim consciousness completely. No one and no thing can hurt us. We dwell in the Kingdom.
"
Dialogue Questions
Have you ever felt persecuted? What happened? When you honestly look back on it, where was the persecution coming from really?
How does this Beatitude relate to your experience of the Easter story? •
What are your reflections on this whole series? Can you find your own spiritual evolution in it?
What else does this mean to you?
Affirmation
As I walk the spiritual path, I continually grow in my Divine Truth. Each day through prayer I awaken more fully to the Power and Presence of God in me. Aware of my eternal nature and Oneness with God, I overcome trials of doubt and fear that take place in my mind. I purify my heart. From this place in consciousness, my spirit is indomitable. Nothing and no one can hurt me.  I am free and unlimited.